Slow Cleanup is a whole systems approach to site remediation designed to increase the net environmental benefits from plant based remediation processes. The designed plantings will contribute to the aesthetics and passive economic revitalization of the site areas, while simultaneously adding environmental value by creating habitat, green corridor connections, reduced heat islanding, carbon sequestration and biofuel generation.
Piloting the use of ornamental, flowering, and fruiting plants, along with the typical agronomic plants most associated with phytoremediation, this enhanced cleanup program aims to increase the plant palette for this alternative approach. Practical hurdles like depth of toxins will provide opportunities to "sculpt" the land, while necessities like fences will be designed for visual interest and access control. These phyto-scapes will be interpreted for the public, increasing awareness of the interconnectivity of natural and cultural systems in the urban ecology.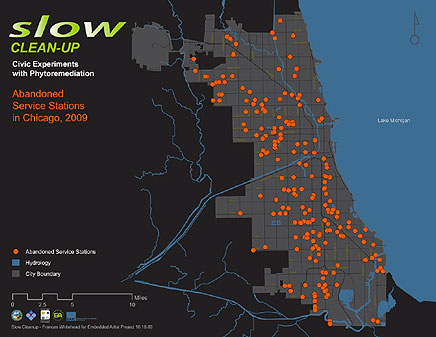 Frances Whitehead is an artist working from a multifaceted aesthetic position that focuses on publicly engaged projects towards a sustainable future. Whitehead is a Professor at the School of the Art Institute of Chicago since 1985, founding the SAIC Knowledge Lab, and contributing to the formation of SAIC4- The Chicago Center for Climate and Culture, a Shapiro Center for Research and Collaboration.
In 2001 Whitehead founded ARTetal Studio to undertake collaborative public projects focused on cultural change and environmental awareness. Projects under development include The Lima Project, an urban agriculture collaboration with the government of Metropolitan Lima, Peru. In 2008, Whitehead initiated The Embedded Artist Project with City of Chicago to bring artistic perspectives to civic endeavors. SLOW Cleanup has been developed through this program. Other projects include: The Phenologic Garden, a climate monitoring project with Hessen Forest Service, Germany, and Chicago Park District, (2008-present); SuperOrg, sustainable urbanism for Cleveland, Ohio (2005-07); Spoleto Festival USA, Charleston; Places with a Future (2003-2006); and the Murray City Ball Diamond Project, a pollution remediation pilot for the NEA and the US Office of Surface Mining, 2000-02.